About the book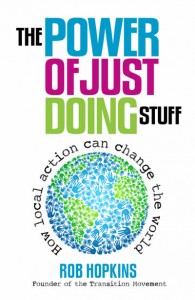 As a culture, we are currently travelling in a direction that prioritizes the desires of the present over the needs of the future, happy to pass on to future generations the waste, the debt and the climate chaos that result from our activities today.

It is short-termist, it devalues the vast swathes of our lives that are currently not monetized (e.g. caring for children and elderly relatives), and is designed to concentrate power and wealth with an elite few.

By doing nothing, we give it our implicit support.

So here is an invitation to be part of something rather special. It is an invitation to be part of consigning that to history.
The Power of Just Doing Stuff
How local action can change the world
ISBN 978 0 85784 117 9 • A5 • 160 pp
Contents
Introduction
Chapter 1 Why we need to do something
Chapter 2 Opening the door to new possibilities
Chapter 3 The power of just getting on with it
Chapter 4 Daring to dream: where we could end up
Resources
Notes
Rob Hopkins is the co-founder of Transition Town Totnes and of Transition Network. He publishes the blog transitionculture.org and tweets as robintransition. In February 2012 Rob and the Transition Network were among NESTA and The Observer's list of Britain's 50 New Radicals, and in 2012 won the European Economic and Social Committee Civil Society Prize.
The aim of 'The Power of Just Doing Stuff' is to take Transition mainstream, to reach out to more people, and to make it famous. Now is very much the time to be doing that. It aims to share the ideas that the Transition movement has defined over the last 8 years in a way that connects with people both within it and outside, and to share the experience and thrill of working as a community and taking power back into our own hands. We feel this really represents a landmark publication for Transition, a real push to scale up these ideas and their impacts. It is also much more international than previous Transition books, with stories from around the world.
Praise for The Power of Just Doing Stuff
"In the leaking ship that we've made of our planet, the Transition movement is like a flotilla of life rafts. And they've come not to pull us off the earth, but to help us patch it and make it right. There's no one on earth who's just done more stuff – and inspired more doing – than Rob Hopkins."
Bill McKibben, founder of 350.org
"I see [Transition] as a wonderful combination of civic local engagement and a worldwide network. In many towns throughout the world people get together, finding community, enthusiastic about the idea of together envisioning a future model for their town that will make it worth living in. There is something out there ladies and gentlemen, I'm deeply convinced, that was set in motion already quite some time ago..."
Horst Köhler, former German president and former president of the IMF
"The essential proposition is not only that we have to adapt our way of life to meet the enormous environmental challenges that we face but that it is quite possibly – and no less practically to the point – a stimulating and enjoyable process as well. If ever there was an idea whose time has come, this is it. "

"Rob Hopkins' book is a truly unique piece of work that anyone who cares about our future in this densely populated and threatened world should read. It offers original thought and clear analysis. It also combines realism and hope."
Jonathan Dimbleby, writer and broadcaster.
"We can talk for ever, but actually learning to live well within planetary boundaries is about doing things differently here and now. Rob Hopkins is a master at doing stuff. He makes the necessary look desirable and possible. Hopkins has understood that paths are made by walking and that what matters is taking steps. Dealing with global challenges will need important rules set at high levels, but we will only survive and thrive if we become enchanted by positive change locally, where we experience the world. This book is that spell to help rapid transition happen."
Andrew Simms, nef Fellow & author of 'Cancel the Apocalypse'