A letter from Cascais, Portugal
[Here's a great story from Portugal.  My thanks to Isabel and Luis for sending it in]. Hello everyone. We are Isabel and Luis, from Cascais, in Portugal. We have lived here (in Cascais) for the last 15 years, with the blue sea and fabulous sand beaches nearby, on one way and amazing mountain sides on the other, sensing the earth and the sea …
… watching beautiful sunrises and sunsets (more sunsets now than sunrises, since our recent embraced work tends to keep us awake till late hours)…
… and live with the constant presence of our history,…
… feel the life in the community and taking part in it,…
… and watching how climate change is taking its toll with some hot waves in the Summer (2003 was indeed the worst, but some others have already followed) and the sea leaving some of the beaches without much of the sand in the Winter (like in 2010).
Well, as we were saying,… we were thinking how sustainable our lives should be to keep being as good as they have been until then, and so that our two children (with six and three years old) could keep on growing with at least the same chances of having a good and safe future as we did back in the time when we were growing up.
By April of 2010 we knew that our municipality was starting a community garden program and we applied ourselves to it. On July 2011, we were called up to start the program formation on organic farming and we haven't stopped gardening our vegetables since then.
In fact we have quite a group there, with some good friendships developing and lots of celebrations to bless our crops.
Meanwhile, about that same time, I (Isabel) came in contact with the Portuguese permaculture and transition groups over the Internet… and I found a new world that looked like it was just there waiting to be found!… For years I had been searching for such kind of knowledge and practical information and… there it was!…
On September 17th and 18th took place the Transition Initiative Course in Sintra, but although an attractive theme, it was still just an idea for me.
On November of 2011 I took notice of a meeting of the local (Cascais) Transition Initiative and I knew I had to come. Until then I had never left what I thought was my comfort zone. And then… I found Transition. After that meeting, Transition grew on me.
On early January of 2012, this time with Luis and the kids coming along, we went to another group meeting, where the core group assumed the disintegration of the existing Initiative.
Later on that month, after some thoughtful consideration, we (Luis and I) looked at each other and… as Rob says "if there is no Transition Initiative in your town, start your own" and so… We did!
From late January we started "Cascais em Transição" group on Facebook, we picked up the existing blog (from the previous group), and on early February we went to the Lisbon Initiatives Meeting and were invited to be on the National HUG (HUB) Meeting, the day after. It was so good meeting all of those whom became our Transition companions and they gave us such levels of inspiration and strength to go on with our new mission in Cascais!… We returned home with our hearts full of joy and motivation to carry on our work.
In the beginning of March we saw our Initiative group grow to six members and on March 23th and 24th we, Luis and I, did the Initiative Training Course in Linda-a-Velha.
In early April we, on behalf of the 'Cascais em Transição' Initiative, presented a proposal to the Cascais Municipality Budget 2012, a program started in 2011 by the Local Government to motivate local residents to have a more active citizenship, to participate in the local decisions and have a saying on how the local funds are spent. This year we presented a proposal and it was approved after being initially voted in the first presenting session!…
Here is Luis presenting the proposal (and you can see the satisfaction on his face, once we knew it had been approved).   
What we are trying to do with this proposal is to pass a vote on a decision to convert a local urban park and to create renewable energy infrastructures on the existing buildings and others like community gardens and community composting area, community wood ovens, cycling school, and a place or building where we can start some sensibilization and capacitation activities.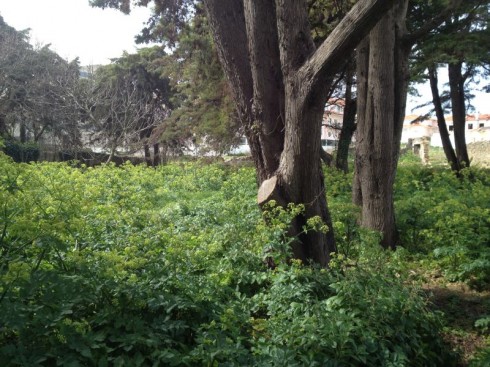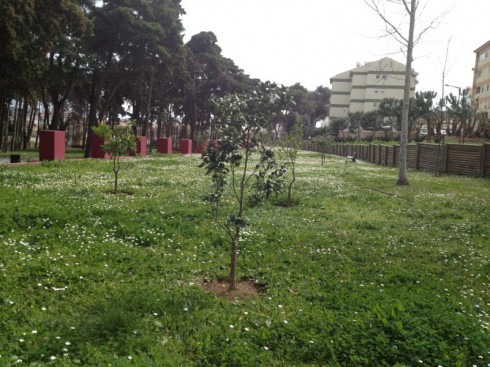 Now the proposal will be technically evaluated by the municipality budget department and after that it will be voted through the internet by the resident constituents. We shall know the final results in October.  By that time we also concluded we needed a Logo and we needed it fast if we wanted to have an image that presented ourselves to the outside as a Transition group. And this is what we came out with: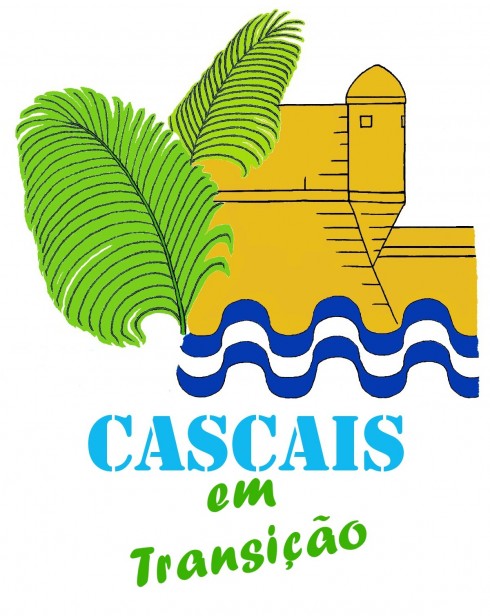 Still, on 17th of March 2012 we were invited by the organization of 'MUSA CASCAIS' Festival to join them on a tree plantation campaign to neutralize the carbon footprint of the Festival.  It was quite a group of people gathered in this cause.
 Here is Miguel and Sofia planting their first cork oak trees with mum and dad.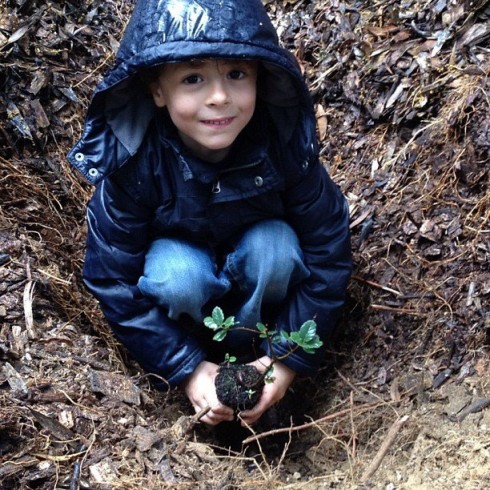 And here is our Mayor, Carlos Carreiras, carrying the oak trees up the hill. He turned to be quite a dedicated man. On that day he said that he wanted to plant one tree for each newborn child in Cascais while he was in office. Since that number had already been exceeded (65.000), he set a new goal: to plant one tree for each resident. We are 268.000.
On the May 5th we invited all of Transition Initiatives of the Lisbon Area to join us in celebration for the national (and simultaneous) exhibition of the 'In Transition 2.0' film. It took place in the Cascais Cultural Center and it was followed by a picnic in the park where we all gathered afterwards and talked about it, exchanging experiences, expectations and points of view about what we had seen.  It had a good audience, with lots of friends from other Transition Initiatives, and not only from Lisbon, which left us grateful for their presence and for the outcome.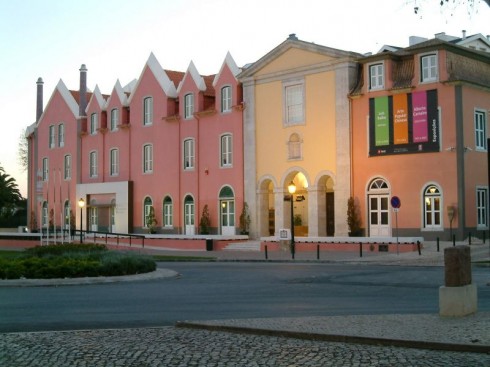 Now, about our most recent adventure on behalf of our Transition Initiative …
After planting some trees to help to neutralize the carbon footprint of the 'MUSA Cascais' Festival', and since 'MUSA Cascais' is and has been from 2006 onwards strongly advocating in favor of sustainability, and of an active response to global warming and climate change – its tag is "Preocupas-te?" or "Do You Care?" – this year, we decided to propose to the organization of this Festival to land us a place or a stand in the grounds of the event, where we could promote Transition and demonstrate its practices.
When we met, instead of discussing the conditions or accepting our request, they proposed to us to go a "little" bit further in our ambitions and asked us to speak to our national HUG to know if, as a growing civic movement, we would be interested in turning 'MUSA Cascais' into a wide and transversal Transition Festival.
In such short notice, this year, with the help of the other portuguese local Initiatives we will all be able to raise a stand representative of the Portuguese Transition, capable of a good deal of promotion and demonstration of our Transition standards in this Music Festival.  Next year, with time, preparation and due efforts, we hope we will be able to share with the world our first Transition Festival.  This is the current lineup of this year MUSA Cascais' Festival and it is not closed yet.

What can we say…  That good chances only unveil to those who stand with open heart and mind to what life can accept of them.
A big HUG from Portugal
Isabel and Luis Gonçalves